Manfred Frank® Micromaster
'A single pair of hinges. Ultimate versatility'
Micromaster heavy duty concealed hinges are award winning products for any installation. They have exceptional load capacity of up to 400kg (or over 800 pounds) per panel. Overlay, inset and curtain wall applications are possible. Even frameless glass to glass applications are no problem.
Once installed, the hinges will retain perfect panel alignment over decades of use. Only two hinges are needed. As a result, they are some of the most cost effective heavy duty concealed hinges. Furthermore, they are highly UV and corrosion proof.  Made from top grade stainless steel, they are a great option for both indoor and outdoor use.
The Micromaster series has been designed with an excellent range of adjustment. Moreover, the hinges can be fitted by a single person under full load.  Any fine tuning is done without special equipment. There are a number of mounting options to suit any panel type. As a result; even thick, wide and very large doors can be fitted easily. Seamless paneling is always achieved.
Used worldwide (See Projects), Micromaster Hinges are known for their quality. Designed to stand the test of time, the Micromaster range offers a versatile option. We are happy to help with any technical advice for your project.

Micromaster hinges are heavy duty concealed hinges made to last a life time. Capable of carrying panels that weigh up to 400kg, there are two models available; the MFH 200 and the MFH 300. The MFH 200 is the standard Micromaster Series hinge model, while the MFH 300 is specifically used for confined spaces. They both use the same frame and panel attachments.
While both Micromaster hinges perform to the same standard, they differ in their adjustment mechanism. MFH 200 hinges feature turnbuckle linkages and are adjusted with a spanner for sideways and compression alignment. A standard Allen key is used to adjust height.
Alternatively, MFH 300 hinges have socket head cap screw linkages. An Allen key is all that is required to adjust for sideways, compression and height alignment. MFH 300 hinges can be adjusted from outside their housing area and are perfect for confined spaces with limited access. For more information see Adjustment.
Both models are easily installed and adjusted under full load. As above, there is no need for any special equipment. Once fitted, perfect panel alignment will last decades. Both models are made from stainless steel. They are highly UV and corrosion resistant, and perform to the highest standard regardless of whether they are used inside or for exterior applications.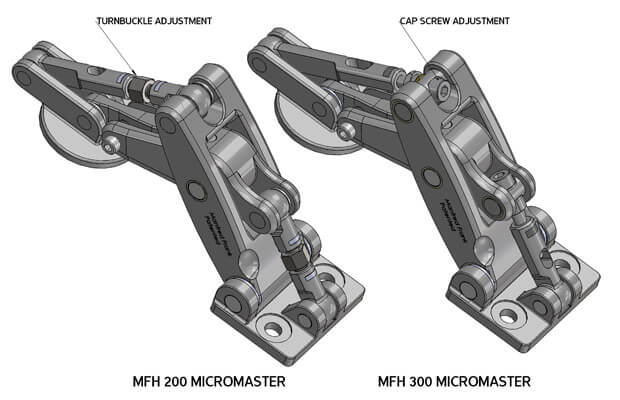 Micromaster features exceed the usual requirements for heavy duty concealed hinges.
Heavy duty multi pivot hinges, two Micromaster hinges can carry doors or panels that weigh up to 400kg or over 800 pounds each.

Single person panel adjustment is possible under full load (400kg). No lifting support equipment required.

Use only two hinges and gain cost savings up to 70%.

Micromaster features patented  self-locking adjustment. As a result, we guarantee no loss of adjustment.

Hinges operate with full 90 degree opening.

Maintenance free and self-lubricating.

Ultra-wide panel applications are possible with just two hinges. For example, panels with height 4m and width 3m. 

Frameless glass-to-glass mounting is possible due to the mounting options available for these hinges.

Concealed hinges create seamless paneling every time. 

Single point panel mounting for side and top hung installations. Furthermore; inset, overlay and curtain wall installations are no problem. 

Wide range of accessories for all types of installations. Importantly, the hinges can be adapted to work with curved panels and spring loading.

Highly effective 3D opening and closing motion prevents any seal damage. Therefore, the wear and tear on door seals is greatly reduced. 

Made from investment cast CD4-MCU Duplex Stainless Steel and AISI 316 Stainless Steel.

Exceeds the requirements of ISO 9227 and BS EN 1670:1998 for corrosion resistance. As a result, Micromaster hinges are ideal for exterior projects.