All Manfred Frank Hinges are available with a range of different frame mount sizes.  The main difference between the hinge frame mounts is the distance between the mounting hole centers. Typically, the bigger the distance between hole center the higher the load bearing capacity. A wider hole spacing produces a better load transfer and reduces the forces placed on the actual screw/bolt mountings. For glass frames, hinges must comply with international standards. These standards determine the minimum distance between the glass holes of a specified hole diameter. Manfred Frank Hinges and their frame mounts fully comply with these regulations and standards.
ANGUTEC Frame Mounts (GFK Composite Material)
The ANGUTEC hinge series is available with three different frame mount sizes- F01, F02 and Fo3. Please note, the mortised insert door mount (d05) can only use frame mount F03.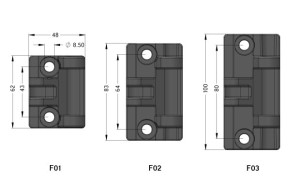 Micromaster MFH 200/300 Frame Mounts (Stainless Steel)
The Micromaster series (MFH 200 and MFH 300) are available with four frame mount sizes – F01, F02, F03 and F04. All Micromaster frame mounts are CD-4MCu Duplex Stainless Steel. The additional frame mount size (F04) is for high load-bearing applications.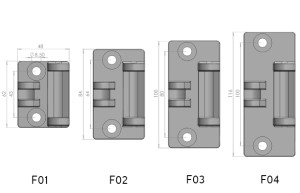 Installation
All Manfred Frank hinge frame mounts are suitable for overlay, inset and curtain wall installations. They are installed in a fixed position because the adjustment mechanisms are in the hinge. This patented feature eliminates slippage or creep over time. As a result, permanent alignment of your panels can be guaranteed.
Additionally, Manfred Frank offer a range of frame mount accessories. These include clamping plates, backing plates, washers and bushes. Using a frame backing plate provides added strength for the frame mount when installed in panels. Furthermore, a plastic washer should always separate steel components from glass panels.
All clamping and backing plates are made from CD-4MCu Duplex Stainless Steel.
Frame Kits
Accessories & frame mounting kits are available for all installations. Certain installations require the offset frame mounting of hinges. A range of different spacers are available for offset mounting, for example inset door panel installations. Manfred Frank Hinges can be  mounted completely frameless and directly to glass panels of different thicknesses with our special glass frame mounting kits & accessories. Other frame installation options such as back-to-back mounted hinges and surface flush countersunk frame mounting can be accommodated with specific frame mounting kits. The Hinge Configurator will help you choose the best frame mount option for your project.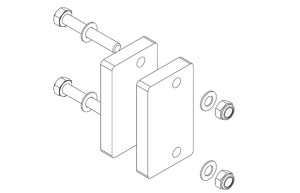 Mounting to Glass with a Backing Plate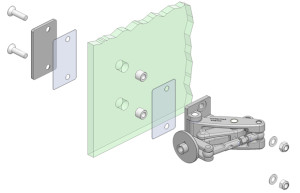 Back-to-Back Mounting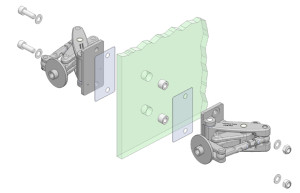 Mounting to Non-Glass Materials with a Backing Plate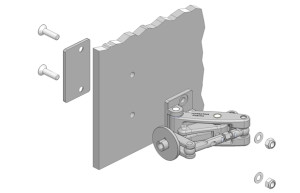 Bolted to Non-Glass Materials