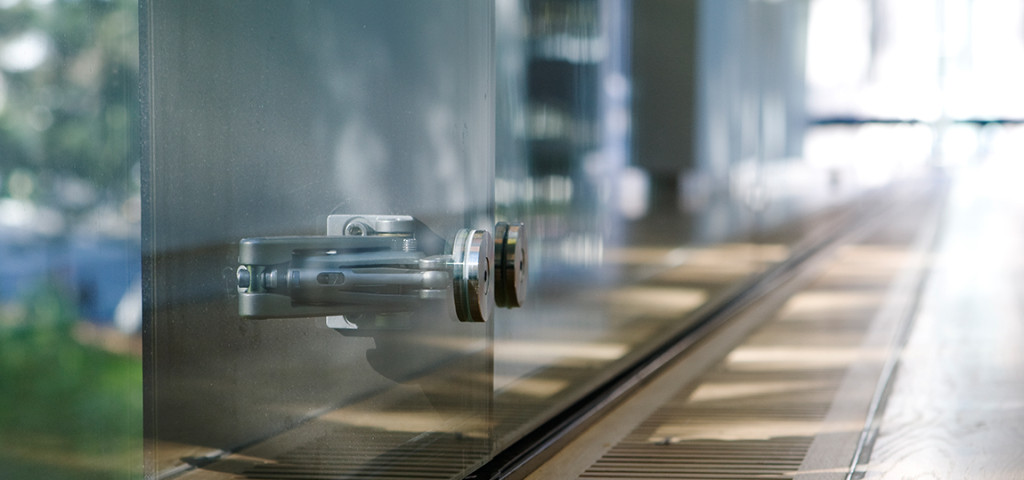 All types of glass can be mounted with Manfred Frank hinges. As a result, they are excellent as glass door hinges.
For example, single layer and laminated toughened/tempered glass panels can be installed with countersunk fittings, clamping plates and bonded fittings. As a result, these special attachments ensure the Manfred Frank range is ideal as glass door hinges. Most importantly, toughened/tempered glass is up to five times stronger than float/ annealed glass of the same thickness. Furthermore; this type of glass can also be laminated, where two sheets are bonded by a plastic or resin inter-layer.
Countersunk fittings and clamping plates cannot be used on laminated float or annealed glass. Therefore, the only way to install laminated float glass is by bonding the glass panel to a special attachment plate first (See Door Mounting Options). Likewise, another mounting option is to bond the panel into a channel extrusion or profile and attach the relevant mechanism to the metal profile.
Glass Weights (Indicative Only)
| | |
| --- | --- |
| Thickness | Weight per m2 |
| 10 mm | 25 kg |
| 12 mm | 30 kg |
| 15 mm | 37.50 kg |
| 19 mm | 47.50 kg |
Tempered/ Toughened Glass Hole Placement Rules
For more information please see Panel Size Charts or Drilling Information.